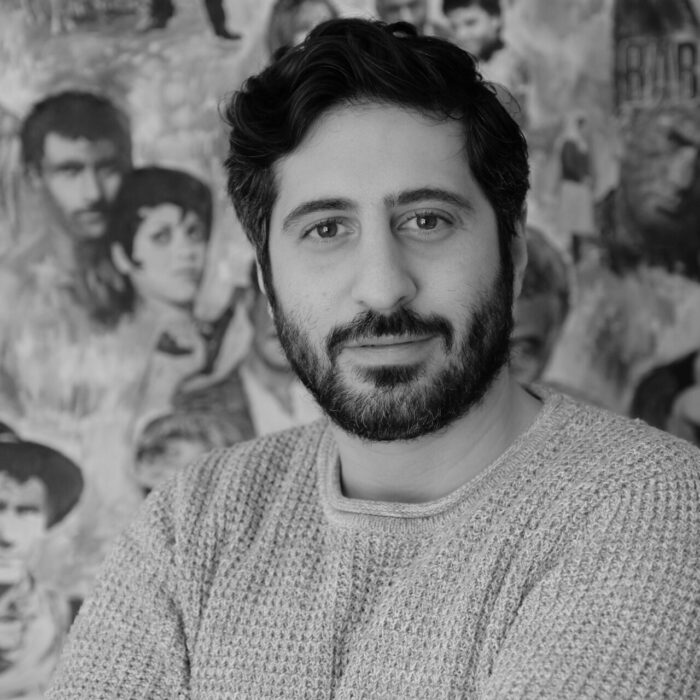 Roj Hajo
Festival Director
Festivalleiter
Rêvebirê Festîvalê
Roj Hajo was born in Hamburg in 1986 and gained his first experience at the Mitosfilm production company in Berlin. In 2009 he worked as producer assistant to Mehmet Aktas in the film "Before Snowfall" by Hisham Zaman and wrote his bachelor thesis on the film and graduated in social work in 2016. He volunteered at the Lageso and helped refugees arrive here and taught them German courses. Since 2018 Roj has been studying film production for television and film at the Film University Babelsberg Konrad Wolf. In 2020 he worked as a line producer for the film "The Bride" by Sergio Trefaut and in 2021 also did his final project as a line producer with the film "Baghdad Messi" by Sahim Omar Khalifa. In addition to managing the festival, he works as a producer at Mitosfilm.

Roj Hajo ist 1986 in Hamburg zu Welt gekommen und sammelte seine ersten Erfahrungen bei der Produktionsfirma Mitosfilm in Berlin. 2009 arbeitete er als Producer Assistant von Mehmet Aktas in dem Film "Before Snowfall" von Hisham Zaman und schrieb seine Bachelor Arbeit über den Film und absolvierte sein Studium in Sozialer Arbeit 2016. Er arbeitete ehrenamtlich beim Lageso und half Flüchtlingen hier anzukommen und lehrte Ihnen Deutschkurse. Seit 2018 studiert Roj "Filmproduktion für Fernsehen und Film" an der Filmuniversität Babelsberg Konrad Wolf. 2020 war er als Line Producer bei dem Film "The Bride" von Sergio Trefaut tätig und machte 2021 sein Abschlussprojekt ebenfalls als Line Producer mit Film "Baghdad Messi" von Sahim Omar Khalifa. Neben der Festivalleitung ist er als Producer bei Mitosfilm tätig.

Roj Haco, sala 1986an li Hamburgê hate dinyayê û yekem tecrûbeya xwe li Şerîkeya Produksiyonê ya Mîtosfilmê, li Berlînê bi dest xist. Sala 2009an wekî alîkarê produser yê Mehmet Aktaş, ji bo filma "Before Snowfall" ya Hisham Zaman xebitî û li ser heman filmê teza xwe ya lîsanê nivîsî û sala 2016an ji beşa xizmetgûzariya civakî der çû. Li Lagesoyê wekî xwebexş xebitî û bû wesîle ku penaber biçine wê derê û dersên almanî dane wan. Roj, ji sala 2018an ve li Film University Babelsberg Konrad Wolfê ji bo karên televîzyon û filman perwerdeya produksiyonê dibîne. Sala 2020an di filma Sergio Trefaut ya "The Bride" da wekî produserê tetbîqker (line producer) kar kir. Herî dawî di filma "Baghdad Messi" ya Sahim Omar Khalifa da wekî produserê tetbîqker kar kir. Ji xeynî birêvebirina festîvalê, wekî produser li Mîtosfilmê kar dike.