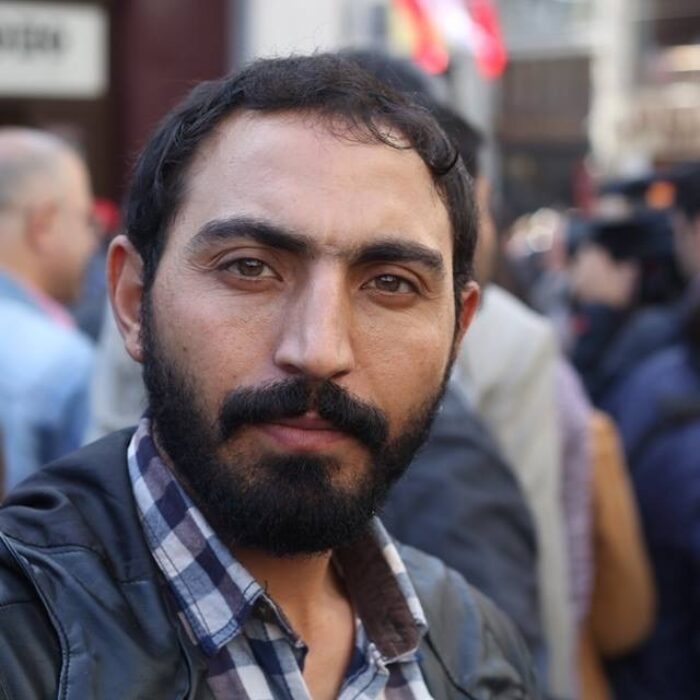 Taylan Mintas
Taylan Mintas studied at the Faculty of Fine Arts of Marmara University in Istanbul. He completed his bachelor's degree in 2012. He shot "I Got an Idea!", an experimental video art movie, in 2015.
He shot another short film, "0 RH-", in 2016. He was the director of photography, editor and co-producer of the documentary film "From the Space Syria is Here" which was broadcast on The Guardian's website. His first feature-length script "The Murder" was selected at the Antalya Film Festival Support Fund in 2015. The artist is carrying out his works in a studio based in İstanbul.
Taylan Mintas studierte an der Fakultät der Bildenen Künste der Marmara Universität in Istanbul. 2012 schloss er dort seinen Bachelor ab. 2015 drehte er "I Got an Idea!", einen Experimentalfilm.
2016 drehte er einen weiteren Kurzfilm, "0 RH-". Er war Kameramann, Cutter und Co-Produzent des Dokumentarfilms "From the Space Syria is Here", der auf der Website von "The Guardian" ausgestrahlt wurde. Sein erstes abendfüllendes Drehbuch "The Murder" wurde 2015 vom Antalya Film Festival Support Fund ausgewählt. Der Künstler führt seine Arbeiten in einem Studio in Istanbul aus.
Di sala 2008 de, ket fakulteya hunerên bedew a zanîngeha Marmarayê da, di Beşa Wênekarî-Hunerê. bawernameya xwe ye bekaloryosê di sala 2012-an de qedand.
Du pêşangehên tekane vekir û xebata xwe di gelek pêşangehên cuda xebat kiriye.
Vidyo ye fîlma "I Got an idea!" di sala 2015 kişand hunerî ya ezmûnî, û wek nimûneyekî ji vidyokî hûnerî bu.
Kurtefîlimek din bi navê "0 RH-" di sala 2016 de kişand. Ew derhênerê wênekêşiyê, edîtor û berhemhênerê belgefîlm bû " Ji Space Space Here Here "ku li ser malpera 'The Guardian' hat weşandin. Dest bi nivîsandina senaryoya xwe ye yekem ye dirêj "The murder." "The murder" di sala 2015-an de ji bo Fona Piştgiriya Festîvala Fîlimê ya Antalya hate hilbijartin. Hunermend xebatên xwe di studyoyekî li bajarê Stenbolê de dimeşîne.