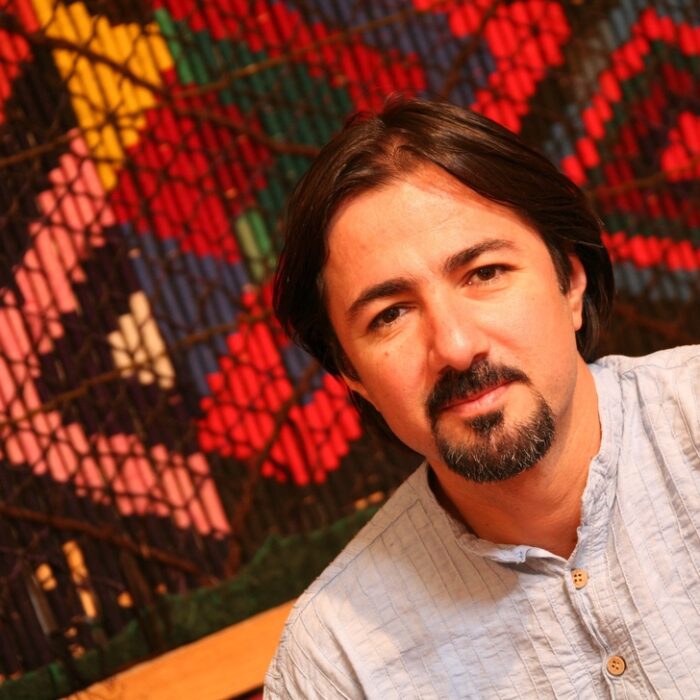 Shahram Alidi
Shahram Alidi, born and raised in Sandadaj, Kurdistan, Rojhalat. In 1997, he graduated with a BA degree in painting from the Faculty of Fine Arts at Tehran University and later with an MA degree in animation directing from the Faculty of Cinema and Theater at the University of Arts in 2004. However, he gradually moved from painting to cinema and filmmaking and finally gave in to his irresistible urge to combine painting, poetry and cinema. Alidi made his first feature film in 2008, after shooting many documentaries and short films.
Shahram Alidi, geboren und aufgewachsen in Sandadaj, Kurdistan, Rojhalat. Im Jahr 1997 schloss er sein Studium der Malerei an der Fakultät für Bildende Künste der Universität Teheran mit einem BA-Abschluss ab und später im Jahr 2004 mit einem MA-Abschluss in Animations-Regie an der Fakultät für Kino und Theater an der Universität der Künste. Er wechselte jedoch nach und nach von der Malerei zum Kino und Filmemachen und gab schließlich seinem unwiderstehlichen Drang nach, Malerei, Poesie und Kino zu verbinden. Alidi drehte seinen ersten Spielfilm im Jahr 2008, nachdem er zuvor viele Dokumentar- und Kurzfilme gedreht hatte.
Shahram Alidi li Sandadajê Kurdestanê Rojhalat ji dayik bûye û li wir mezin bûye. Di sala 1997de bawernameya zanîngha ye wênesaziyê ji Fakulteya Hunerên Bedew li Zanîngeha Tehranê de xwendna xwe diqedîne, û piştra jî bawernameya mastrê ye derhêna anîmasyonê ji Fakulteya Sînema û Theaterê li Zanîngeha Hunerê di sala 2004 de qedand. Lêbelê ew gav bi gav ji nîgarkêşiya sînemayê û çêkirina fîlimê, dawiyê berê xwe da hewesa wî ye bê, wêne, helbest û sînemayê l. Alîdî di sala 2008-an de piştî kişandina gelek belgefîlm û kurtefîlman, fîlima xwe ye dirêj a yekem çêkir.
2015 / Black Horse Memories
2009 / Whisper with the Wind