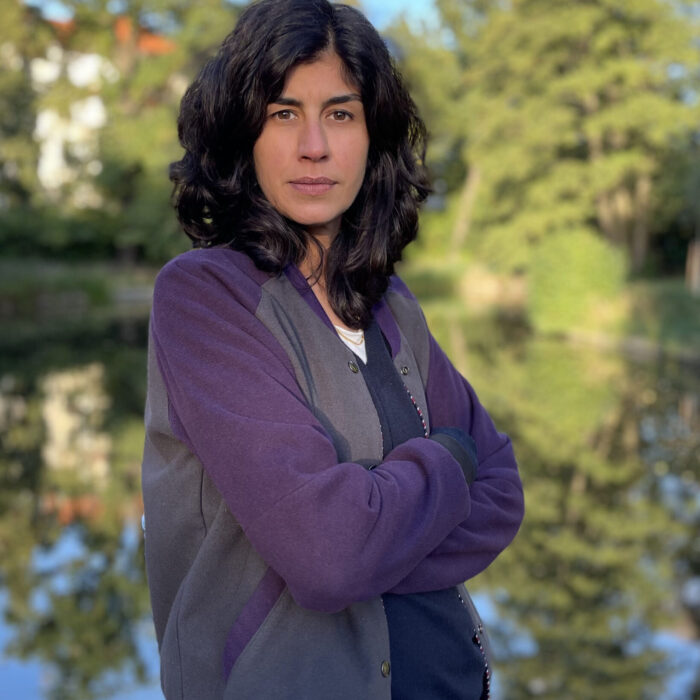 Serpil Turhan
SERPIL TURHAN was born in Berlin in 1979. Between 1997 and 2005, she starred in several feature films
directed by Thomas Arslan and Rudolf Thome. From 2001 to 2004 she studied theater at the Free University
of Berlin and then worked as an assistant director for various directors. At the same time, she began making
documentaries herself. In 2013, she graduated with the documentary film "Dilim Dönmüyor - My Tongue
Does Not Turn." Her first feature-length documentary film after graduation, "Rudolf Thome - Everywhere
Flowers," premiered in the Forum section of the Berlinale in 2016. Serpil Turhan lives and works in Berlin.
SERPIL TURHAN wurde 1979 in Berlin geboren. Zwischen 1997 bis 2005 spielte sie als Hauptdarstellerin in
mehreren Kinofilmen von Thomas Arslan und Rudolf Thome. Von 2001 bis 2004 studierte sie
Theaterwissenschaft an der Freien Universität Berlin und arbeitete anschließend als Regieassistentin für
verschiedene Regisseure. Parallel begann sie, selbst Dokumentarfilme zu drehen. 2013 legte sie mit dem
Dokumentarfilm "Dilim Dönmüyor – Meine Zunge dreht sich nicht" ihr Diplom ab. Ihr erster abendfüllender
Dokumentarfilm nach dem Studium "Rudolf Thome – Überall Blumen" feierte seine Premiere 2016 in der
Sektion Forum der Berlinale. Serpil Turhan lebt und arbeitet in Berlin.
Serpil Turhan sala 1979an li Berlînê hate dinyayê. Di navbera salên 1997-2005an de di gelek fîlmên dirêj de rol gêra ku ji aliyên Thomas Arslan û Rudolf Thome ve hatine derhênan. Ji sala 2001ê heta 2004an li Zankoya Free ya Berlînê şano xwend û piştre li gel çendîn derhêneran wekî asîstan xebitî. Di heman demê de wê bi xwe jî dest bi duristkirina belgefîlman kir. Sala 2013an, bi belgefîlma My Tongue Does Not Turn (Zimanê Min Nagere) der çû. Piştî derçûnê, yekem belgefîlma wê ya Rudolf Thome – Everywhere Flowers (Rudolf Thome – Her der Kulîlk) li Berlînaleê di beşa Forumê de premîyera xwe kir. Turhan li Berlînê dijî û dixebite.
 2010
"Herr Berner und die Wolokolamsker Chaussee" (Dok., mittellang)
 2013
"Dilim Dönmüyor – Meine Zunge dreht sich nicht" (Dok.)
 2016
"Rudolf Thome – Überall Blumen" (Dok.)
 2021
"Köy" (Dok.)