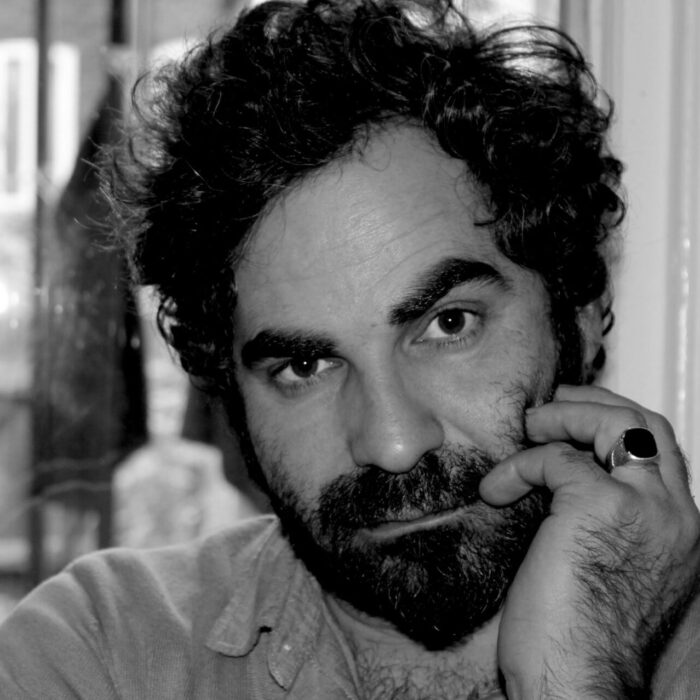 Sami Mermer
Sami Mermer is a Kurdish director from Turkey, currently based in Montreal. He studied Mathematics at the University of Ankara from 1994 to 2000 at the University of Istanbul and pursued cinema studies at the University of Mesopotamia from 1998 to 2000, followed by studies of French and Cinema Studies at the University of Quebec from 2000 to 2002.
He worked on several documentaries and fiction films, as a director and director of photography. He was co-writer and assistant director of Ax (the land), winner of several prizes and awarded best film in the 2000 Hamburg Film Festival.
The Box of Lanzo, 102 minutes, was his first feature documentary about homeless people which he directed, edited and shot almost entirely in Grand Rapids, Michigan. Mermer lived in Morocco and launched a production company called Turtle Productions with Hind Benchekroun based in Casablanca. Mermer and Benchekroun were co-writers, co-directors and co-producers of Traces of Time, Les Vendeurs ambulants, Le Pompiste and À quelque pas de la ligne.
Mermer has lived in Montreal since 2007. In 2015, he released in collaboration with Benchekroun the long feature documentary film Callshop Istanbul, about the life of refugees from all over the world in Istanbul, a gateway to immigration to Europe.
Sami Mermer ist ein kurdischer Regisseur aus der Türkei, der derzeit in Montreal lebt. Er studierte von 1994 bis 2000 Mathematik an der Universität Ankara, gefolgt von einem Studium der Filmwissenschaften an der Universität Mesopotamien. An der Universität Quebec studierte er Französisch und Filmwissenschaften von 2000-2002.
Er arbeitet als Kameramann und Regisseur in Dokumentar- und Spielfilmbereich. Er war Co-Autor und Regieassistent von Ax (the Land), dem mehrfach preigekrönten Film von Kazim Öz, der u.a. als bester Film beim Filmfest Hamburg 2000 ausgezeichnet wurde.
The Box of Lanzo war Sami's erster Dokumentarfilm über Obdachlose, den er in Grand Rapids, Michigan, gedreht hat. Mermer lebte in Marokko und gründete mit Hind Benchekroun in Casablanca die Produktionsfirma Turtle Productions. Mermer und Benchekroun sind Co-Autoren, Co-Regisseure und Co-Produzenten von Traces of Time, Les Vendeurs ambulants, Le Pompiste und À quelque pas de la ligne.
Mermer lebt seit 2007 in Montreal. 2015 veröffentlichte er in Zusammenarbeit mit Benchekroun den abendfüllenden Dokumentarfilm Callshop Istanbul, der von dem Leben von Flüchtlingen aus aller Welt erzählt, die in Istanbul stranden, dem europäischen Migrations-Tor.
Samî Mermer derhênerekî kurd e ji bakûrê Kurdisanê ye, niha li Montrealê de dijî. Li Zanîngeha Enqerê de ji sala 1994-an heta 2000-an li Zanîngeha Stenbolê de di Beşa Matematîkê xwendiye û ji sala 1998-an heta 2000-an li Zanîngeha Mezopotamya de di beşa sînemayê xwendiye, ji sala 2000-an heya 2002 li Zanîngeha Quebec lêkolînên Frensî û Sînemayê kiriye.
Li ser çend belgefîlm û fîlmên xeyalî, wekî derhêner û derhênerê wênegiriyê xebitî ye. Ew hev-nivîskar û alîkarê derhênerê Ax (erd) bûye, xwediyê çend xelatan bûye û di Festîvala Fîlimê ya Hamburgê ya 2000-an de fîlimê çêtirîn xelat girtiye.
Qutiya Lanzo, 102 hûrdem, yekem belgefîlma wî ya dirêj a li ser mirovên bêmal bûye ku derhênerî, edîtorî û hema jî bi tevahî li Grand Rapids, Michigan kirye. Mermer li Fasê dijiya û pargîdaniyek hilberînê ya bi navê Turtle Productions bi Hind Benchekroun ku li Casablanca-yê ye vekirye. Mermer û Benchekroun hev-nivîskar, hev-derhêner û hilberînerên Traces of Time, ambulants Les Vendeurs, Le Pompiste û À quelque pas de la ligne bûne.
Mermer ji sala 2007-an li Montrealê dijî. Di 2015-an de bi hevkariya Benchekroun belgefîlm ye dirêj Callshop Istanbul çêkiriye, li ser jiyana penaberên ji çar aliyên cîhanê li Stembolê, deriyek ji koçbûna Ewropayê ye.
2019 / La chambre
2016 / Callshop Istanbul
2011 / Turtles Do Not Die of Old Age
2006 / The Box of Lanzo