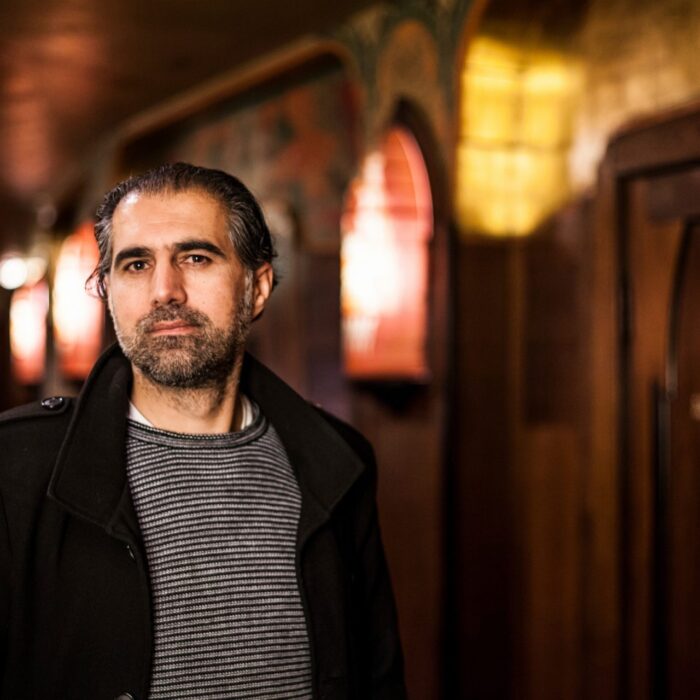 Reber Dosky
Reber Dosky (1975, Dohuk/Kurdistan)is a Kurdish-Dutch filmmaker. After studying film direction at the Film Academy in Amsterdam he graduated with his first documentary The Call (2013). In 2014 he founded his own production company Adar Film. After the short documentary The Sniper of Kobani(2015) received a lot of attention, his breakthrough came with his first feature documentary Radio Kobani (2016), which won the IDFA Award in the Dutch competition, and many other awards at festivals all over the world. In 2019 he won the IDFA award for best documentary with Sidik and the Panther. Reber Dosky aims at telling broad stories on social and political issues through showing their impact on one man's life.
Reber Dosky (1975, Dohuk/Kurdistan) ist ein kurdisch-niederländischer Filmemacher. Nach seinem Studium der Filmregie an der Filmakademie in Amsterdam beendete er sein Studium mit seinem ersten Dokumentarfilm The Call (2013). Im Jahr 2014 gründete er seine eigene Produktionsfirma Adar Film. Nachdem der Kurzdokumentarfilm The Sniper of Kobani (2015) viel Aufmerksamkeit erhielt, gelang ihm der Durchbruch mit seinem ersten Langspielfilm Radio Kobani (2016), der den IDFA Award im niederländischen Wettbewerb und viele weitere Preise auf Festivals in aller Welt gewann. 2019 gewann er mit Sidik and the Panther den IDFA Award für den besten Dokumentarfilm. Reber Dosky möchte umfassende Geschichten zu sozialen und politischen Themen erzählen, indem er deren Auswirkungen auf das Leben eines Individuums zeigt.
Reber Dosky (1975, Dihok/Kurdistan) fîlmçêkerekî Kurd-Hollandî ye. Piştî xwendina derhêneriya fîlmê li Akademiya Fîlman a Amsterdamê bi belgefîlma xwe ya yekem The Call (2013) mezûn bû. Di sala 2014an de şirketa xwe ya hilberînê Adar Film ava kir. Piştî ku kurte belgefîlma Sniper of Kobani (2015) gelek eleqedar bû, serkeftina wî bi yekem belgefîlma dirêj Radio Kobani (2016), ku di pêşbirka Hollandayê de xelata IDFA-yê wergirt, û gelek xelatên din li festîvalên li seranserê cîhanê. dinya. Di sala 2019an de bi Sidik and the Panther xelata belgefîlma herî baş a IDFAyê wergirt Reber Dosky armanc dike ku çîrokên berfireh li ser mijarên civakî û siyasî vebêje û bandora wan li ser jiyana yek mirovî nîşan bide.
2019 - SIDIK AND THE PANTHER, doc.
2017 – MERYEM, short doc.
2016 – RADIO KOBANI, doc.
2016 – YEZIDI GIRLS, short doc.
2015 – THE SNIPER OF KOBANI, short doc.
2015 – HORSEPOWER
2015 – ONE HAPPY DAY
2014 – 4EVER, short doc.
2013 – THE CALL, short doc.
2012 – MY GOOD FORTUNE IN AUSCHWITZ, short doc.