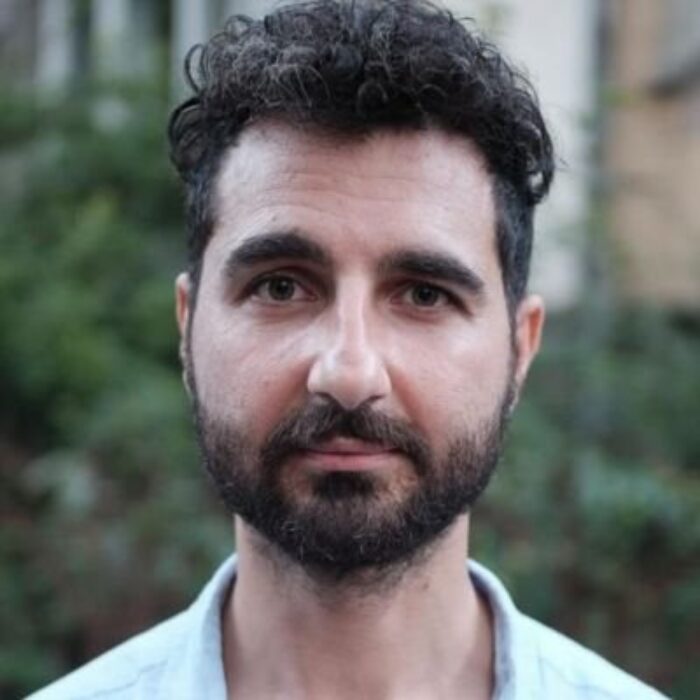 Orkan Bayram
Orkan Bayram is a director-producer living in Berlin and Cologne. His works as a producer have been screened in major international film festivals including Rotterdam, Edinburgh and Montreal and won several awards. He started working in commercials, feature films and TV as a camera assistant and sound recorder in Istanbul. He moved to Berlin in 2011. He has working experience in Turkey, Syria, Iraq, Spain and Bosnia and Herzegovina. He is pursuing a career in non-fiction film directing with a focus on the Middle East.
Orkan Bayram lebt als Regisseur und Produzent in Berlin und Köln. Seine Arbeiten als Produzent wurden auf internationalen Filmfestivals wie Rotterdam, Edinburgh und Montreal gezeigt und mehrfach ausgezeichnet. Er begann seine Arbeit in Werbefilmen, Spielfilmen und im Fernsehen als Kameraassistent und Tonmeister in Istanbul. 2011 zog er nach Berlin. Er sammelte Arbeitserfahrung in der Türkei, Syrien, Irak, Spanien und Bosnien und Herzegowina. Er verfolgt eine Karriere als Dokumentarfilmregisseur mit Fokus auf Geschichten des Nahen Osten.
Orkan Bayram derhêner-çêker li Berlîn û Kolnê de dijî. Xebatên wî yên wekî hilberîner di festîvalên navneteweyî yên girîng de hat nîşandan, wek, Rotterdam, Edinburgh û Montreal, û gelek xelat wergirtine. Wî li Stenbolê di reklam, fîlmên metrajdirêj û TV de wekî alîkarê kamerayê û tomara deng dest bi xebata xwe kirye. di sala 2011 de çû Berlînê. Li Tirkiye, Sûriye, Iraq, Ispanya û Bosna Hersek tecrubeya wî ya xebatê heye. Di kariyera xwe di derhêneriya fîlimê bi baldariya li ser Rojhilata Navînê dike û dişopîne.
2020 / Brîndarim
2013 / Çoban
2009 / The Magnifier