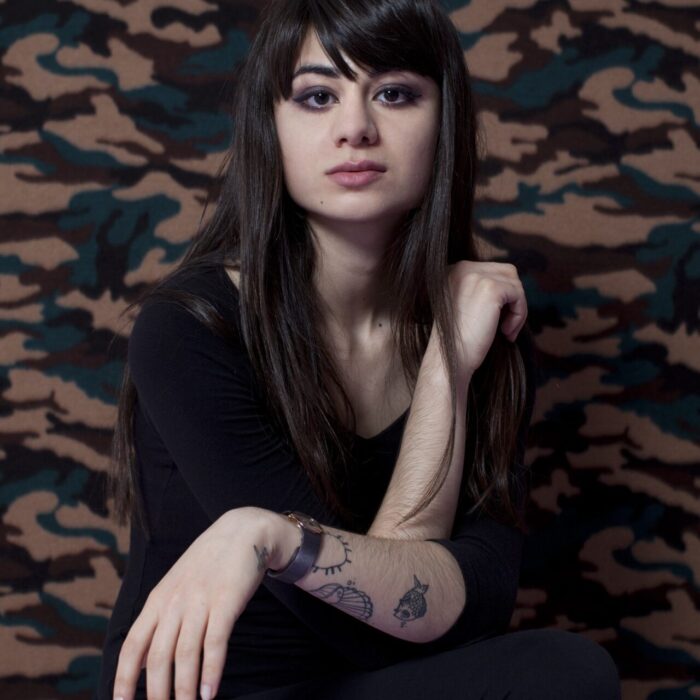 Kurdwin Ayub
Kurdwin Ayub was born in KRG in 1990.
Currently, she works as a director, screenwriter, and video and performance artist in Vienna, Austria.
Studies in Painting and Animation with Christian Ludwig Attersee and Judith Eisler at the University for Applied Arts Vienna from 2008 to 2013. Since 2011, studies in Performing Arts with Carola Dertnig at the University of Fine Arts Vienna.
Her shorts have been shown and awarded at numerous international film festivals. In 2013, Ayub was awarded the Vienna Independent Short Newcomer Prize, in 2011 and 2012, she received the Viennale Mehrwert Short Film Prize.
In 2012, she presented a series of her short films at the Viennale. Her feature documentary Paradise! Paradise! – direction, screenplay and cinematography by Ayub – won Best Camera at the Diagonale – Festival of Austrian Film, the New Waves Non Fiction Award at the Sevilla Festival de Cine Europeo and the Carte Blanche Prize of the Duisburger Filmwoche in 2016.
Kurdwin Ayub wurde 1990 in der KRG geboren.
Sie lebt und arbeitet als Regisseurin und Drehbuchautorin in Wien.
2008-2013 studierte sie Malerei und experimentellen Animationsfilm an der Universität für angewandte Kunst in Wien. Parallel dazu Studium der performativen Kunst an der Akademie der bildenden Künste in Wien.
2011 und 2012 erhielt Ayub den Kurzfilmpreis der Viennale und 2013 den Vienna Independent Shorts Newcomer Filmpreis.
Ihr erster Langfilm, der Dokumentarfilm Paradies! Paradies!, bei welchem Ayub Regie, Buch und Kamera führte, läuft auf internationalen Filmfestivals und gewann den Preis für die beste Kamera bei der Diagonale 2016, den New Waves Non Fiction Award beim Sevilla Festival de Cine Europeo 2016 und den Carte Blanche Nachwuchspreis bei der Duisburger Filmwoche 2016.
Kurdwin Ayub di sala 1990 de li başûrê kurdistanê de ji dayik bûye.
Di vê demî de li Vienna, Austria, wekî derhêner, senarîst, û hunermendêkî di beşa vîdiyo kişandin û performansê de kar dike.
Ji sala 2008-an û sala 2013-an de li Zanîngeha Hunerên Bicîhkirî li Zanîngeha Hunerên Bicîhkirî bi Christian Ludwig Attersee û Judith Eisler re Lêkolînên Wênekirinê û Anîmasyonê xwendinê xwe qedand. Ji sala 2011-an ve li Zanîngeha Hunerên Bedew ye Vienna bi Carola Dertnig re di Hunerên Pêşandanê de dixwîne û berdewan dike.
Kurtefîlmên wê di gelek mîhrîcanên fîlimên navneteweyî de hatine nîşandan û xelat girtinê.
Di sala 2013 de, Ayub Xelata Nûçegihana Kurt a Serbixwe ya Viyanayê, di 2011 û 2012 de, her wiha Xelata Kurtefîlma Viennale Mehrwert wergirt.
Di 2012 de rêzeyek kurtefîlmên xwe li Viyenale pêşkêş kir. Belgefîlmê wê yê dirêj Paradise! Cinnet! - derhênerî, senaryo û sînematografiya Ayub - Di Diagonale de Kameraya Herî Serkeftî bu - Festîvala Fîlimê ya Avusturyayê, Xelata Nû ya Çêkirî ya New Waves a Festîvala Sevilla de Cine Europeo û Xelata Carte Blanche ya Duisburger Filmwoche di 2016 de.
2018 / Boomerang
2016 / Paradies! Paradies!
2013 / Sexy
2011 / Sommerurlaub
2010 / Die Intrige und die Archenmuscheln
2010 / Homevideo
2010 / Kaiserschnitt
2009 / Mutterkindpass