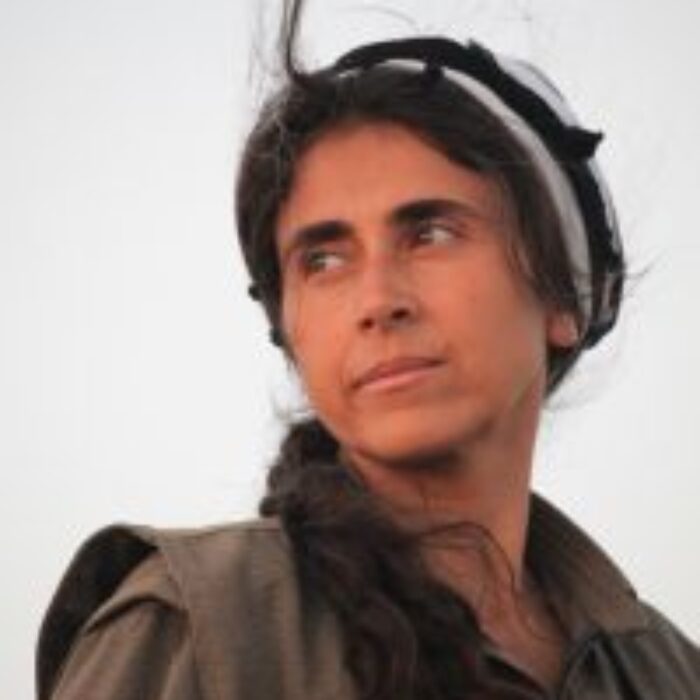 Jînda Asmen
Jînda Asmen is a Kurdish woman from northern Kurdistan. She was born in 1980 in Siirt. She could only
read up to primary school 5 due to her difficult life conditions at a young age.
She takes part in the theater group of the Mesopotamia Culture and Art Center (MKM) in Turkey. She starts
her artistic life with theater. She focuses on acting and directing. After 1998 due to the war and power
pressures in Turkey, she continued her artistic works in Southern Kurdistan. She acts in the cinema category
with the year 2000. And co-directing of the film is also found in the cameraman. Then there is the player
coaching experiment.
She takes a place in the battlefields as an announcer and journalist in press activities as well as art.
Jînda Asmen kommt aus Nordkurdistan. Sie wurde 1980 in Siirt geboren. Aufgrund ihrer schwierigen Lebensumstände konnte sie nur bis zur 5.Klasse die Schule besuchen. Sie beginnt ihren künstlerischen Werdegang mit der Teilnahme an Theatergruppen des Mesapotamischen Kultusministeriums (MKM). Sie konzentriert sich auf Schauspiel und Regie. Nach 1998 setzt sie aufgrund des Krieges in der Türkei ihre künstlerische Arbeit in Südkurdistan fort. Dort arbeitet sie überwiegend im filmischen Medium zu arbeiten als Kamerafrau, Regieassistenz und Darstellerin.
Jînda Asmen jineke ji bakurê Kurdistanê ye. Ew sala 1980yan li Sêrtê hatiye dinyayê. Asmenê, ji ber şert û mercên giran yên jiyanê bi tenê karî heta pola 5em bixwîne. Li Tirkiyeyê di koma şanoyê ya Navenda Çanda Mezopotamyayê (NÇM-MKM) de cih digire. Bi şanoyê dest bi rêwingiya xwe ya hunerê kir. Karê wê lîstikvanî û derhênerî ye. Sala 1998an ji ber zordestî û tepeseriya şer û desthilatê li başûrê Kurdistanê kar û barên xwe yên hunerî berdewam kir. Ji sala 2000an ve di sînemayê de lîstikvaniyê dike. Di warên alîkariya derhêner û kamermaniyê de jî kar kiriye. Şarezatiya wê ya perwerdekariya lîstikvanan jî heye. Li gel karên hunerî, di karê medyayê de jî li meydanên şerî wekî bêjer û rojnameger dixebite.
Tîrêj (Ray as noun) Actress
Nepeniya rûyê me (The secret of our faces) Actress
Wenê : Co-Direction-Camera
Ji Bo Azadiya (The End Will Be Spectacular) : Acting Coach