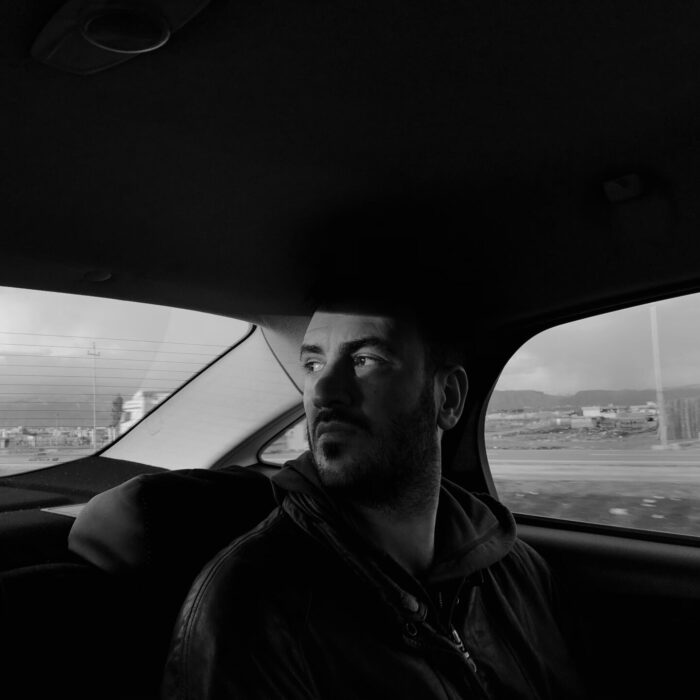 Eren Karakuş
Eren Karakuş was born in 1984 in the Kurdish city of Amed (Diyarbakır) in southeast Turkey. He graduated from Fatih High School in 2003 and then took on various roles as an actor in the Municipal Theater. He applied to the art school in Muğla in 2008, was accepted to the sculpture department and held his first exhibitions. After completing his education in 2012, he returned to Amed and worked in different fields in the Municipal Theatre. He came to Switzerland for the first time in 2016 for two exhibitions of his photographs in Bern and Geneva. In 2017, he received an invitation to "Artist in residence" from the city of Zurich and completed his master's degree in Transdiciplinarity at the Zurich University of the Arts (ZHdK) in 2021. He has been living in Basel since 4 years and is working on various art projects.
Eren Karakuş wurde 1984 in der kurdischen Stadt Amed (Diyarbakır) im Südosten der Türkei geboren und übernahm schon früh verschiedene Rollen als Schauspieler im Stadttheater. 2008 wurde er an der Kunstschule in Muğla für den Studiengang Bildhauerei angenommen. Nach Abschluss seiner Ausbildung im Jahr 2012 kehrte er nach Amed zurück und engagierte sich in der Theaterszene. 2016 nahm er mit seiner Fotografie an zwei Ausstellungen in Bern und Genf teil. 2017 erhielt er eine Einladung als "Artist in Residence" der Stadt Zürich und schloss 2021 sein Masterstudium in Transdiziplinarität an der Zürcher Hochschule der Künste (ZHdK) ab. Seit 4 Jahren lebt er in Basel und ist in der Kunstszene aktiv.
Eren Karakuş, di sala 1984an de bajarê Kurdan ê ku dikeve başurê rojhilatê Tirkiyeyê li Amedê hate ser dinyayê. Di sala 2003an de îcezeta xwe ji Lîseya Fatîhê (Amed) hilgirt. Piştre di Şanoya Bajêr de weke lîstikvan, di rolên cûrbicûr de cihê xwe girt. Di sala 2008an de li Muğlayê serî li dibistana hunerê da, bo beşa peykersaziyê hate qebûlkirin û pêşangehên xwe yên ewilî li vê derê li dar xist. Piştî ku di sala 2012an de perwerdeya xwe qedand, vegeriya Amedê û di Şanoya Bajêr de di beşên cuda de xebitî. Cara yekem di sala 2016an de ji bo du pêşangehên xwe yên wêneyan yên ku li Bern û Cenevreyê hatin lidarxistin hate Swîsreyê. Di sala 2017an de ji bajarê Zurichê vexwendname ji bo "Hunermendê Serdan" wergirt û di sala 2021an de li Zanîngeha Hunerî ya Zurichê (ZHdK) mastera xwe ya navdîsîplînî qedand. Ev 4 sal in li Baselê dijî û di gelek projeyên hunerî de dixebite.
''The Sacrifice'', 3'42'', Ceylanpinar, Turkey, 2013.
''The Gallery'', 4'59'', Amed (Diyarbakir), Turkey, 2013.