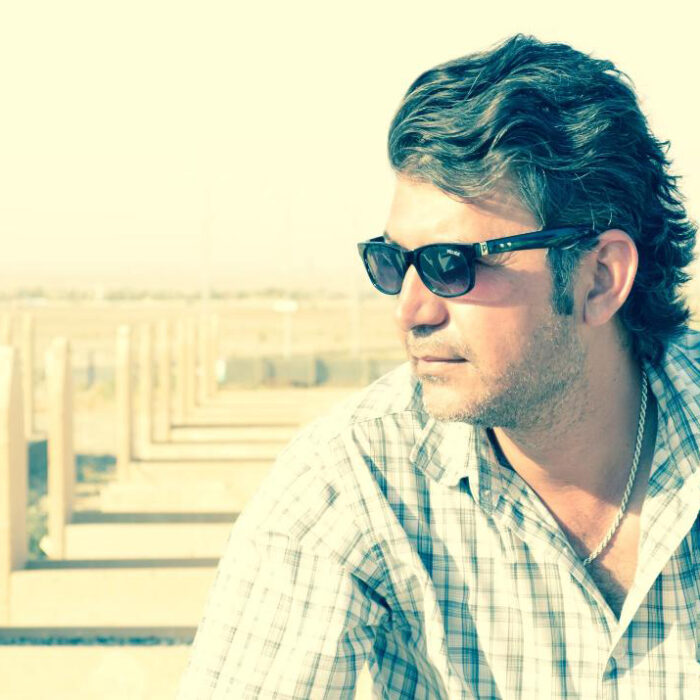 Dana Karim
Dana Karim was born in 1973 in Sulaimaniya, Kurdish Regional Government. He graduated from the University Sulaimaniya at the Institute of Fine Arts - Theater Department. His work in film began as a theater actor in the late 1980s and he has since directed documentary-, short films as well as plays. His short films participated in multiple international festivals. He works in the Directorate of Film in Sulaymaniyah Ministry of Culture and Youth.
Dana Karim wurde 1973 in Sulaimaniya in der Autonomen Region Kurdistan geboren. Er absolvierte sein Studium an der Universität Sulaimaniya im Institut für Bildende Künste - Abteilung Theater. Seine Filmarbeit begann in den späten 1980er Jahren als Theaterschauspieler. Seither hat Regie geführt, Drehbücher im Dokumentar-, Kurzfilmbereich realisiert und Theaterstücke inszeniert. Seine Kurzfilme nahmen an mehreren internationalen Festivals teil. Er arbeitet in der Filmabteilung des Ministeriums für Kultur und Jugend in Sulaymaniyah.
Dana Kerîm di sala 1973 de li Silêmaniyê ji dayik bûye. Li Zanîngeha Silêmaniyê li Enstîtuya Hunerên Xweşik - Beşa Theateranoyê qedandye. Karê xwe di fîlimê de wekî lîstikvanek şanoyê di dawiya 1980-an de dest pê kir û ji wê demê de derhêneriya belgefîlm, kurtefîlm û her weha lîstikan kiriye. Kurtefîlmên wî beşdarî gelek festîvalên navneteweyî bûn. Di wezareta çand û ciwaniyê ya Silêmaniyê de di Beşê Fîlman dixebite.
2021 / The Wind Girl
2016 / Pearl Island / Short
2014 / First Story / Short
2012 / White and Black / Short