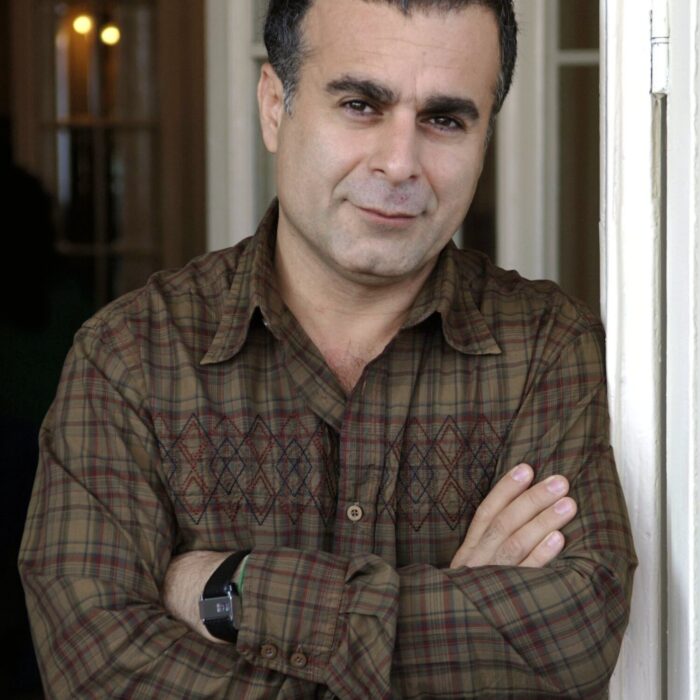 Bahman Ghobadi
Acclaimed director, producer and screenwriter Bahman Ghobadi was born in 1969 in Baneh, in the province of Rojhilat-Kurdistan. He made several feature films, the best known being his first, A TIME FOR DRUNKEN HORSE (2000), the first Kurdish film in the history of Iran. This film and all following titles made by Ghobadi were hits in the festival circuit, garnered dozens of awards, and remain classics of Kurdish cinema history. He is known for successful titles like LIFE IN FOG (1998), NO ONE KNOWS ABOUT PERSIAN CATS (2009), HALF MOON (2006), only to name a few.
Regisseur, Produzent und Screenwriter, Bahman Ghobadi wurde 1969 in Baneh in der Provinz Rojhilat-Kurdistan geboren. Er drehte mehrere Spielfilme, der bekannteste ist sein erster "A Time for Drunken Horses" (2000), der erste kurdische Film in der Geschichte des Iran. Dieser Film und alle folgenden Titel von Ghobadi waren Hits auf internationalen Festivals, wurden mit Dutzenden von Preisen ausgezeichnet und sind Klassiker der kurdischen und iranischen Filmgeschichte. Er ist bekannt für erfolgreiche Titel wie LIFE IN FOG (1998), NO ONE KNOWS ABOUT PERSIAN CATS (2009), HALF MOON (2006), um nur einige zu erwähnen.
Derhêner, hilberîner û senarîstê navdar Bahman Ghobadi di sala 1969-an de li Baneh, li parêzgeha Rojhilatê Kurdistanê de ji dayik bûye. Çendîn fîlmên dirêj çêkirne, ye herî tê naskirin fîlmê wî ye yekem bû A TIME FOR THE DRUNKEN Horse (2000), yekemîn fîlma kurdî di dîroka Iranranê de bû.
Ev fîlm di çerxa festîvalê de gelek serkeftî bû, bi dehan xelat girtin û klasîkên dîroka sînemaya kurdî bû. her wiha jî bi filmên gelek serkeftî jî tê naskirin mîna JIYANA FOG (1998), KES BI PATTATKN PERSIANN ((2009), NALV MO HONV (2006).
2015 / A Flag Without a Country
2014 / Words with Gods
2012 / Rhino Season
2009 / No One Knows about Persian Cats
2006 / Half Moon
2004 / Turtles Can Fly
2003 / Daf
2002 / Marooned in Iraq
2000 / A Time for Drunken Horses
1998 / Life in Fog
2000 / A Time for Drunken Horses